Review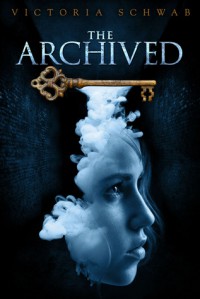 This is an entertaining YA fantasy. I put it on my Read Harder 2017 list for task 15: Read a YA or middle grade novel by an author who identifies as LGBTQ+. To discover author's that fit into this category, I took advice from the Goodreads group on the Read Harder challenge which has Schwab mentioned as an author who is LGBTQ+.
I've been wanting to read her Shades of Magic series as well but I had it in my head at the time that this was a stand alone. I have no idea why. It is part of a series and the next book is The Unbound, which I will be reading to finish the series at some point down the road. My library had this one but not the next one quite yet.
Like I said above, I did enjoy it. It's quintessentially YA with an ass-kicking strong female lead and a touch of a love-triangle. Unlike some other YA, our heroine, Mackenzie Bishop, has a good head on her shoulders. She usually makes good decisions but is recently rocked by a family tragedy that contributes to setting the story in motion. She's flawed but not so much that the reader can't feel sure she'll get back on track provided nothing too drastic happens. Of course, it's a novel by a good writer, so drastic things are bound to happen, right?
The two male leads are interesting and different from each other in great ways. They may even be swoon worthy if I were close enough to my YA years to not make that super-creepy. As it is, I merely recognize that they are suitably matched for Mackenzie as love interests. Mackenzie's parents are great. They're recovering from the same tragedy that she is and are handling it in understandable ways. I love the details on fakeness of Mom's smile. Parents have a tendency to try to make things okay before they are. It's the way of the world. Still, I loved their efforts. I wish I knew more about Da, though.
Now for the really fun part. The world building was my favorite part! I love the Archive and the Narrows and the way Schwab plunges right into them. The people who work at the Archive are nuanced but only as far as Mackenzie would reasonably know them. The Coronado is a great old building with lots of stories and nooks and crannies and interesting little things about it. I loved the other residents that Mackenzie meets. Most of all, the story held layers of secrets of it's own and while some were eventually revealed, they only caused more questions about what secrets were still held. I'll be interested to see where the rest of the series goes but I also appreciate that the story had a solid ending. I could stop here and feel pretty satisfied with the story. I won't, but I could.